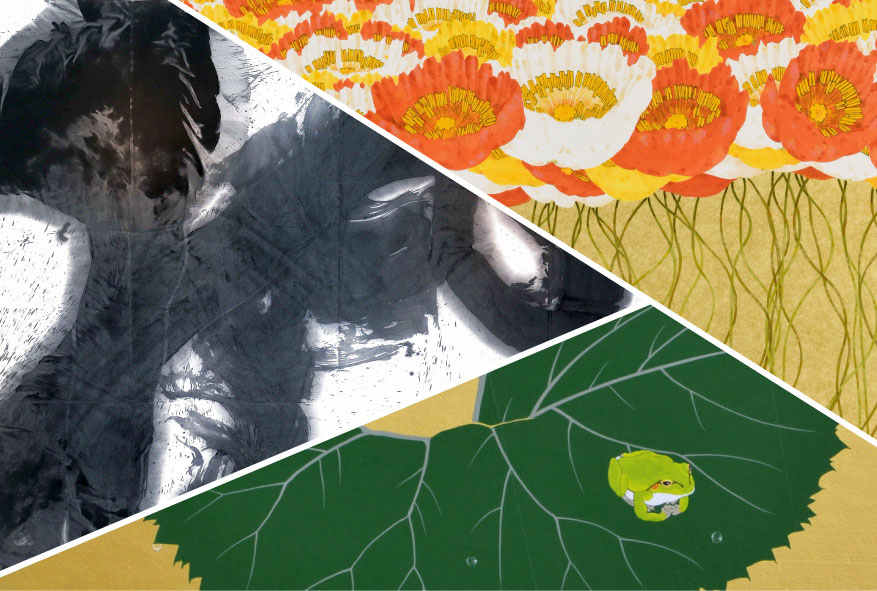 "Art Platform Tokyo" 柿沼康二、楚里勇己、磯部光太郎3人展
ANAインターコンチネンタルホテル東京(赤坂)の1階から3階のギャラリースペースにて作品を展示
ANAインターコンチネンタルホテル東京
会場 〒107-0052 東京都港区赤坂1-12-33
電話番号:03-3505-1111 Fax:03-3505-1155
会期 2018.12.28 – 2019.2.13
Art Platform Tokyoは、2018年年末・2019年新春の特別企画として、書家の柿沼康二と日本画家の楚里勇己、磯部光太郎の展覧会「舞MAI」を、MARUEIDO JAPANと共同開催いたします。 存命書家として初めて現代美術館(金沢21世紀美術館)で個展を開き、現代作家とのコラボや海外のアートフェアと、積極的に活動の場を広げている柿沼康二。彼は、「書はアートたるか、己はアーティストたるか」と言う命題のあくなき追求を掲げ、書を進化させています。一方、現代的な色彩センス、構成力で絶大なる支持を得ている楚里勇己、そして、先日N Yで初個展を成功させた磯部光太郎は、2018年春に同ホテルにて好評を得た日本画展以来2度目の出展です。楚里は日本の四季の花を、磯部は長年の取り組んでいるビオトープをテーマに新春を飾ります。
ANA INTERCONTINENTAL HOTEL
1-12-33 AKASAKA MINATO-KU TOKYO
03-3505-1111 
2018.12.28 – 2019.2.13
Art Platform Tokyo is proud to present our New Year's exhibition 'MAI (DANCE)'to celebrate the arrival of the 2019 featuring Koji Kakinuma, calligrapher, Yuuki Sori and Kotaro Isobe, Nihonga artists (Japanese-style painters), in collaboration with MARUEIDO JAPAN.
Koji Kakinuma is the first living calligrapher ever to hold a solo exhibition at contemporary museum in the country. 'Is calligraphy art? Am I an artist?' – by taking on this perpetual quest, Kakinuma continues to push the boundaries of calligraphy, collaborating with contemporary artists and exhibiting works in museums and art fairs around the world. Along with Kakinuma, we invited Yuuki Sori, popular Nihonga artist known for his sophisticated color scheme and elegant composition, and Kotaro Isobe who had held his first solo exhibition in NYC. Sori portrays Japanese flowers of the four seasons and Isobe depicts the biotop in Japan.
In one section of this exhibition, the artists present works based on specific themes. Kakinuma, maestro of calligraphy, the art of 'flow' created in one go, was asked to express'stillness.' On the other hand, Sori and Isobe, both experts in Nihonga, the art known for portraying 'stillness' and 'serenity,' were asked to depict'flow.' Please visit and take a look at their works presented side by side on the first floor.
'My brush sways in the air and dances on the paper'- Kakinuma once spoke of his creative process. We hope you enjoy the dance of brushstrokes by the three artists to celebrate the arrival of the New Year.
Koji Kakinuma (B.1970, Tochigi Prefecture). Education: Tokyo Gakugei University. He began studying Japanese calligraphy at the age of five under his father Suiryu Kakinuma. Kakinuma was a visiting scholar at Princeton University from 2006-2007. Numerous awards he won include the Higashikuninomiya International Cultual Award (2012), and Mainichi Calligraphy Exhibition (1996 and 1999). Aside from the solo exhibition Kanazawa 21stCentury Contemporary Art Museum, he has shown his work in museums and venues around the world such as the Metropolitan Museum of Art (New York) and Philadelphia Museum of Art (Philadelphia). He is showing his work at MARUEIDO JAPAN (Tokyo) in January of 2019.
Yuuki Sori (B.1985, Aichi). Lives and work in Nagareyama, Chiba. Education: Tokyo University of the Arts, B.F.A. Since Sori had his first solo exhibition at 'un reve,' a restaurant in Tokyo a year after graduation, he his known as one of the most popular Nihonga artists of his generation, continuously showing his work around the country. He has also collaborated with trendy brands such as Lexus, and fashion brands such as Mira Schon and Aquascutum. In 2016, he received The Cherry Blossom Encouragement Award at Sato Sakura.
Kotaro Isobe (B. 1970), Tokyo. Lives and works in Kamakura, Kanagawa. Education: Tokyo University of the Arts, B.F.A., M.F.A. Isobe participated in working on the reproduction of the ceiling panel at the Tenryu-ji Temple, Kyoto, and the restoration of pillars in the Chuson-ij Temple Konjiki-do Golden Hall, Miyagi, both UNESCO World Heritage. He also created the fan for the debut stage of Yuki Nomura, the son of the popular Kyogen, traditional comic stage actor, Mansai Nomura. His work has been shown around the world including the United States where he recently had his first solo exhibition at Resobox Chelsea Gallery (New York).
BLOG 一覧へ戻る
旧BLOG 「第四話 柿沼康二とKOJI KAKINUMA」